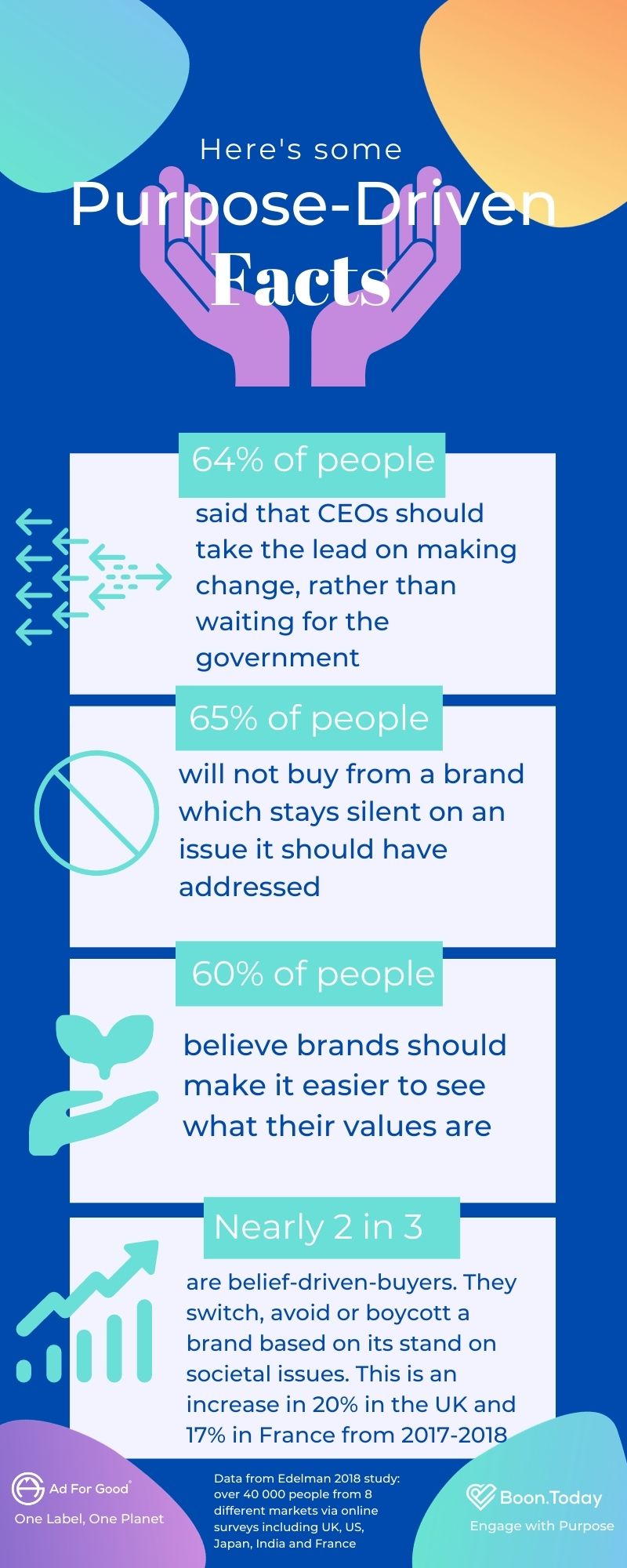 If you have read any other blog posts that I have written or listened to any of my podcasts, you will have noticed that there is one thing that I can't talk enough about. If this is your first time reading this blog, I will save you the trouble by telling you what that is:
Purpose-Driven Marketing.
Whilst I am fully convinced that this type of marketing is not only essential but is also the best way to advertise in this day and age, I am sure that most of you here are not. Or maybe some of you aren't quite sure what it is, or how this might be relevant to you, as an advertiser or as a consumer. This article is dedicated to not only convince you that this is the best, and most useful form of marketing but also to show you just how easy it is to make your campaign purposeful, without taking the limelight away from your product, or services.
To start, the infographic above is taken from a study in 2018 by Edelman, an American public relations and marketing consultancy firm. 2 years on, this study is still 100% relevant, to prove that consumers are more interested in a brand's values rather than the products they have. Over 60% of people from this survey said that
-CEO's must take the lead on change,
-That they will not buy from a brand which has stayed silent on an important issue it should have addressed,
-That they believe brands should make it easier to see what their core values are.
The results are clear, even if you have the best product out there, you will lose many customers just because you don't have clear company values, nor are you prepared to take a stance on anything. However, it's not just about having company values. Consumers want to see brands making a change. They want to see CEOs leading their brands to take initiative and support causes and projects which are in-tune with their company values.
It's not just about jumping on a trending topic on Twitter or putting up some funky-looking posters in your stores. There's more to it than that. Mike Dupree, the senior manager for media and entertainment on Twitter said:
"any purpose-driven campaign shouldn't be a short-term thing. There has to be a deep-rooted purpose."
But this deep-rooted purpose doesn't have to be anything controversial. The best values are ones that are found in the DNA of your company, which you can identify the most with. Such as fighting against discrimination, gender equality, plastic pollution, forest wildfires, saving wildlife...
Anheuser-Bush has been delivering emergency cans of drinking water for years to those who are in need and recently delivered 150 000 cans to support those subjected to recent tornados in Tennessee, just earlier this year. This is a beer company, which has strong values in providing water for those in need and are constantly acting on this. However, they didn't stop there. They took this value and projected it further, and have been hosting projects for river restoration and projection since 2010. This brand not only has a strong purpose but also has incredibly strong activism.
But this article is not about just about having core values, it's about learning how to advertise in a way which doesn't take away from the original brand message, but which promotes your company values at the same time. This is what consumers are looking for, and quite honestly, this is the easy part and is the future of advertising.
Once you have decided on your company values, and know what type of projects you want to support, the next step is to simply log onto your Boon.Today online platform, where you can find thousands of projects to support, or even request for a specific, more personalised one for your company. These projects are via charities that we have connections with, and we require that at least 1% of your campaign budget is sent to this project.
Then, you will connect your campaign to our technology, which will embed the Ad For Good® Label into your advert using our micro-donation technology. This technology allows for every digital impression or user interaction to be tracked on your campaign. We will then be able to state that you are giving back to the world via your specific project within your advert, and the rest will be history! All the fiddly stuff is handled by us, and once the campaign ends the money will be sent to the project and the campaign will be closed.
Let me remind you again, that the demand for brands to show their values, take a stance on an issue and to not stay silent is increasing. If you have strong company values but do nothing with them then this is a waste. Consumers are learning to read between the lines, notice when a brand isn't bothered by giving back and are buying from brands that have a strong voice.
Connecting your campaign with Boon.Today technology gives your brand that purposeful image aligned with your deep-rooted values that it desires, without taking away from your product or service. It will transform your advert, giving you 10x more interactions on each campaign, whilst showing consumers that you are a company that cares, and that is giving back.
Your brand might have the best product, but now it is time to have the best purpose.
Click here for a free demo to see what your campaign will look like, or chat with us to ask any questions you may have!