Want to stay on top of the latest advertising trends for this year? Want to know exactly how to keep your customers engaged, whilst using innovative, creative techniques and technology to promote your business and products? Keep reading, I've got you covered. Boon.Today has looked into the crystal ball and pulled out all the necessary information that you need to know to be ahead of the game. So, let's get started!
1. User-generated content
UGC is where users create and promote their own content for a brand on social media, and it outperformed itself in 2020 far beyond brand-created content. To be specific, ads based on user-generated content receive 4 times higher click-through rates compared to average ads, as well as a 28% higher engagement rate compared to standard company posts. Content is created by customers using filters that brands create on Snapchat or Instagram stories, through TikTok videos, or through Instagram reels with the use of tagging and hashtags.
One of my favourite examples of a brand utilising user-generated content is by The Iconic, which made its Mother's Day Campaign featuring images and footage of real mothers at home in lockdown, struggling with home-schooling, crying children and so much more. What I love about this campaign is how it is not only using unedited, unfiltered UGC but that it is using this content to remind others that they are not alone, that there are so many people going through the same struggles as they do each day!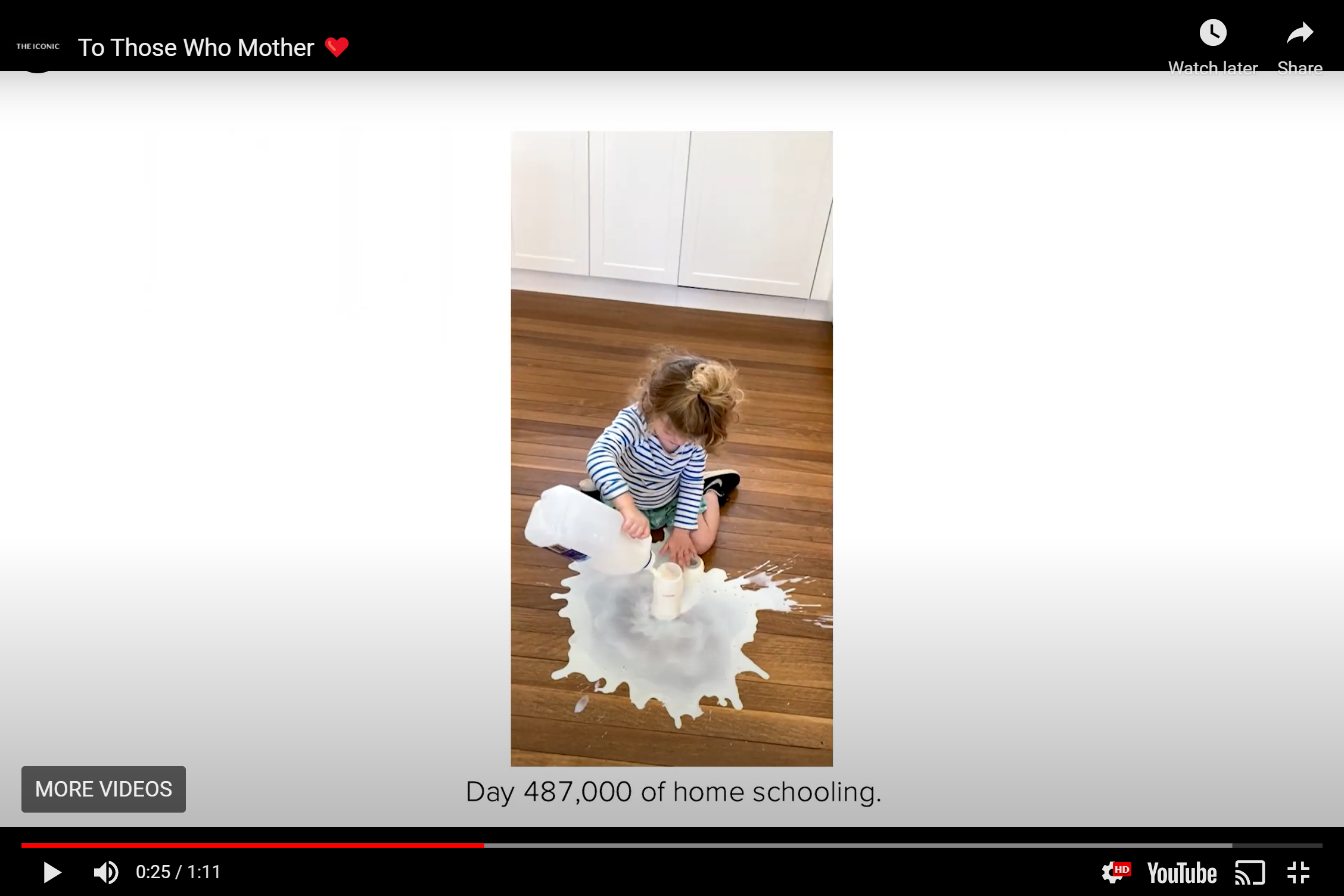 User-generated content is predicted to only soar in 2021, with the use of TikTok, Instagram reels, live stories and more, there are so many options for influencers to create attention-grabbing content that is relatable, fun to watch and so incredibly convincing!
It is 'word of mouth marketing', in a virtual space, where word spreads faster than in the real world. After all, nothing says trust like content created by someone you completely relate to and empathize with on social media.
2. In-game advertising
Last March, Nintendo released 'Animal Crossing: New Horizons', and it sold more than 13.41 million copies in just 6 weeks. If you aren't sure why so many were sold, some external research about now is advised.
If you are up to date, as you/your son/daughter/niece/nephew/cousin/parent/dog play this game 24 hours a day, then you can understand the hype about this game. Now what is even more fascinating about this game, is what some brands have done by partnering with Animal Crossing.
For example, Marc Jacobs released their own virtual collection online, allowing users to dress their avatar in the luxury clothes of the brand after they entered a unique code. Only 6 of their favourite pieces were presented, as they are a luxury designer brand after all.
But one brand took this partnership to a whole new level. The brand 'Gémo' in France, in partnership with the agency Rosbeef, decided that as physical shops are shut, why don't they open a shop in a video game? And that is exactly what they did.
Their brand, of ready-to-wear clothing, was a hit in the Animal Crossing game, as these types of clothes are exactly what people were buying obsessively during lockdown: comfortable, affordable and cozy! The video game was advertising in itself, and as you can see here the clothes refer directly to the pieces in real life!
After all, who wouldn't want a virtual shopping experience in their favourite video game? Below are some images of the clothes in real life transported to avatars in the video game. This type of advertising is predicted only to rise in 2021.
3. Product placement
This is thought to be the oldest trick in the book, but we predict that this trend has only just begun. From Stranger Things, to Suits, right down to Friends, there are sneaky ways that brands manage to incorporate their products and brands into popular TV shows and movies.
Whilst 68% of product placements last for 5 seconds or less, product placement is the largest and fastest-growing market in the US, generating billions of dollars in revenue which will only grow in 2021.
The next time you sit down to watch your favourite Netflix show, look out for the cleverly placed logos of brands to catch your eye subconsciously. The logo of Burger King in the photo below could not be less subtly placed in the image below, but other times it is so subtly placed that you might not even notice it the first time round! This is a multi-billion dollar market in the advertising industry and it will expand to new heights in 2021!
4. Nostalgia Marketing
The world we live in is not only fast-paced but driven strongly by looking towards the future. I also don't need to remind you of the struggles that our planet went through last year - from the loss of loved ones due to Covid-19, loss of houses due to bushfires, the loss of Black lives in a fight for equality and so much else. I can't put it into words the pain that some of us have felt during this past year. Therefore, we believe that nostalgia marketing will be boosted to new heights in 2021.
Studies have shown nostalgia gives our lives a sense of meaning and continuity, thereby having a positive effect on our mental wellbeing. It brings us a sense of happiness amid chaos, and reminds people of a happier, simpler time, thereby encouraging you to buy the product!
Nike, Pepsi, Gucci and Mountain Dew are a few brands that adopted such a strategy of marketing and were a technique used throughout 2020 whilst the world was trying to navigate itself through unpredictable and unprecedented times.
For example, Cheetos included nostalgia marketing in their 2020 Super Bowl advert, by introducing Cheetos popcorn. The advert featured the nostalgic feeling of eating a bag of Cheetos and finishing with bright orange fingers. This is something so many people who were watching the Super Bowl could relate to, as they remember being in this yummy and messy situation when they were younger.
We can therefore expect to see some blasts from the past appearing soon on your screens, as brands try to transport you back to the past with some old-time favourites. This type of marketing is certainly not new, but what goes around certainly comes back around, and it seems like 2021 is where people can use a boost of happiness and a sense of nostalgia.
5. Brand activism: purpose-driven advertising
We saved the best till last. 2020 was a year of so many surprises (not always the good kind), and filled to the brim with uncertainty and fear for the future. When the world was at a low point, many brands were seen taking a stance by voicing their support for those that are struggling. Reebok, Twitter and Nike vocally showed their support for the Black Lives Matter movement through their social media pages.
Some brands went even further by inserting brand activism into their branding, and even products. For example, Ben & Jerry's created the 'Unfudge our Future' campaign, in which they teamed up with the Climate Council and 250.orgAustralia to encourage the Australian government to ditch fossil fuels and use renewable energy.
They created a new flavour of non-dairy ice cream and personalised it to address the Australian prime minister, saying 'Dear Scott Morrison, Make Fossil Fuels History!', and a portion of the proceeds from each ice cream was donated to 350.orgAustralia.
This was Ben & Jerry's way to voice their concern about their fears about climate change, and to use their power to drive a campaign to pressure the government to invest in 100% renewable energies.
Brand activism is a trend that will grow to new heights this year. More and more brands are standing up for what they believe in, and this is what makes brands authentic nowadays.
Ben & Jerry's created an incredible campaign to encourage the Australian government to invest more in renewables, Nike showed their support for the Black Lives Matter movement.
At Boon.Today we have seen first-hand that campaigns which are driven by a purpose gain not only 10x more engagement on their platforms, but it also shows that brands are committed to supporting issues that their consumers care about and are using their voice and power for good.
So there you have it. Boon.Today's very own predictions for advertising trends in 2021! However, we aren't done just yet. Here is a bonus point for those that kept reading till the end:
6. OOH Advertising
Stay with me on this one. Times Square might only see a few thousand people a day, as opposed to hundreds of thousands, and Oxford Street might be a ghost town. But there is hope…
With the vaccination programme quickly taking over worldwide, the end of this dark cave is insight. We predict that if things keep moving forward, then there will be a boom in OOH and DOOH advertising.
After months of being asked to stay at home, looking at screens and digital ads that seem to pop up absolutely everywhere nowadays, OOH advertising will be the main focus for brands that will be trying to reach their consumers who are no longer looking at their screens all day long.
Sky Suttenfield, of Seen Media Group, explained that OOH advertising will be an effective format once most people have been vaccinated, as people will be rushing outside and will be more aware of their surroundings. This will make OOH advertising extremely popular and more effective than before.
In fact, some brands such as Fred and Farid and Hun utilised OOH advertising campaigns during lockdown in a fun, inspiring and imaginative way, which you can read more about here.
However, these campaigns were focused more on the lockdown-side of things, whether it's giving inspiration to people who are struggling or making people smile. Imagine the campaigns we will see once we are out of lockdown on the OOH and DOOH billboards, making people smile and feel eternally grateful that they survived such a tough time in their life and that they can get through anything.
What is evident throughout all these predictions for advertising in 2021 is how advertising nowadays is going way beyond selling the product.
There is a need for authenticity, a deep, meaningful purpose and truth. Consumers are craving for some happiness, maybe even a trip back in time, and advertising campaigns have the ability to do that if they stay ahead of the game.
Let us know what you think about these predictions, we would love to hear from you!